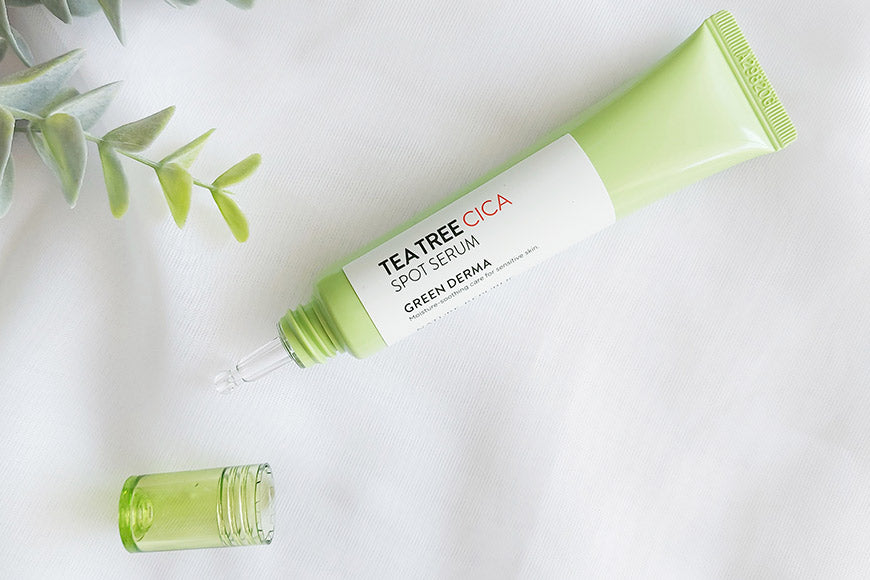 NATURE REPUBLIC: TEA TREE CICA
NATURE REPUBLIC TEA TREE CICA SPOT SERUM
LWearing the mask has greatly disturbed our skin. It no longer breathes properly and the friction of the fabric irritates its surface where we then see the appearance of patches of irritation and pimples.
NATURE REPUBLIC launches a range to fight against these small imperfections caused by the mono-climate created by the mask. This skincare range combines two essential ingredients:
The

 

cat,

 

set of soothing natural ingredients, protective of the skin barrier.
The

 

tea tree, natural antiseptic but also anti-inflammatory that calms skin inflammation.
Two perfect ingredients for combination to oily skin that suffers from sensitivity.
It's not bad to have to change your skincare routine depending on the situation, it's completely normal to put your favorite skincare aside while you regulate the skin. NATURE REPUBLIC accompanies you in this new care routine with a toner, a spot serum and a day cream. The brand has also launched a set of ampoules, care concentrated in active ingredients, for all skin types!
LIt is spot serum Tea Tree Cica is a gel-like formulation that is applied locally to areas suffering from sudden skin problems. The spot serum soothes, hydrates, improves skin roughness and is non-sticky. It actively helps to decrease inflammation within a few days.
Since it is a targeted treatment, its applicator remains consistent. Its tip allows you to take the right amount of products to apply to an area.
Its composition is validated by Part, the Korean equivalent application to Yuka for cosmetic care. Only 2 ingredients are considered allergens: limonene and linalool; present only very slightly.
The product is transparent and is very well absorbed by the skin, leaving no residue or greasy film.
Its effects are quite positive and occur in two stages. The pimples can be very sensitive or even painful, the gel, thanks to the tea tree, will first calm this pain and sensitivity. The day after the first application, we note these first anti-inflammatory effects on a pimple; it is less red, less swollen too. The pimple will fade over the days, it is necessary to take care to continue to treat it well.
The toner and cream are to be used daily to prevent the appearance of these pimples and protect the skin. If the skin barrier is strengthened, the negative effects of the mask will be reduced.