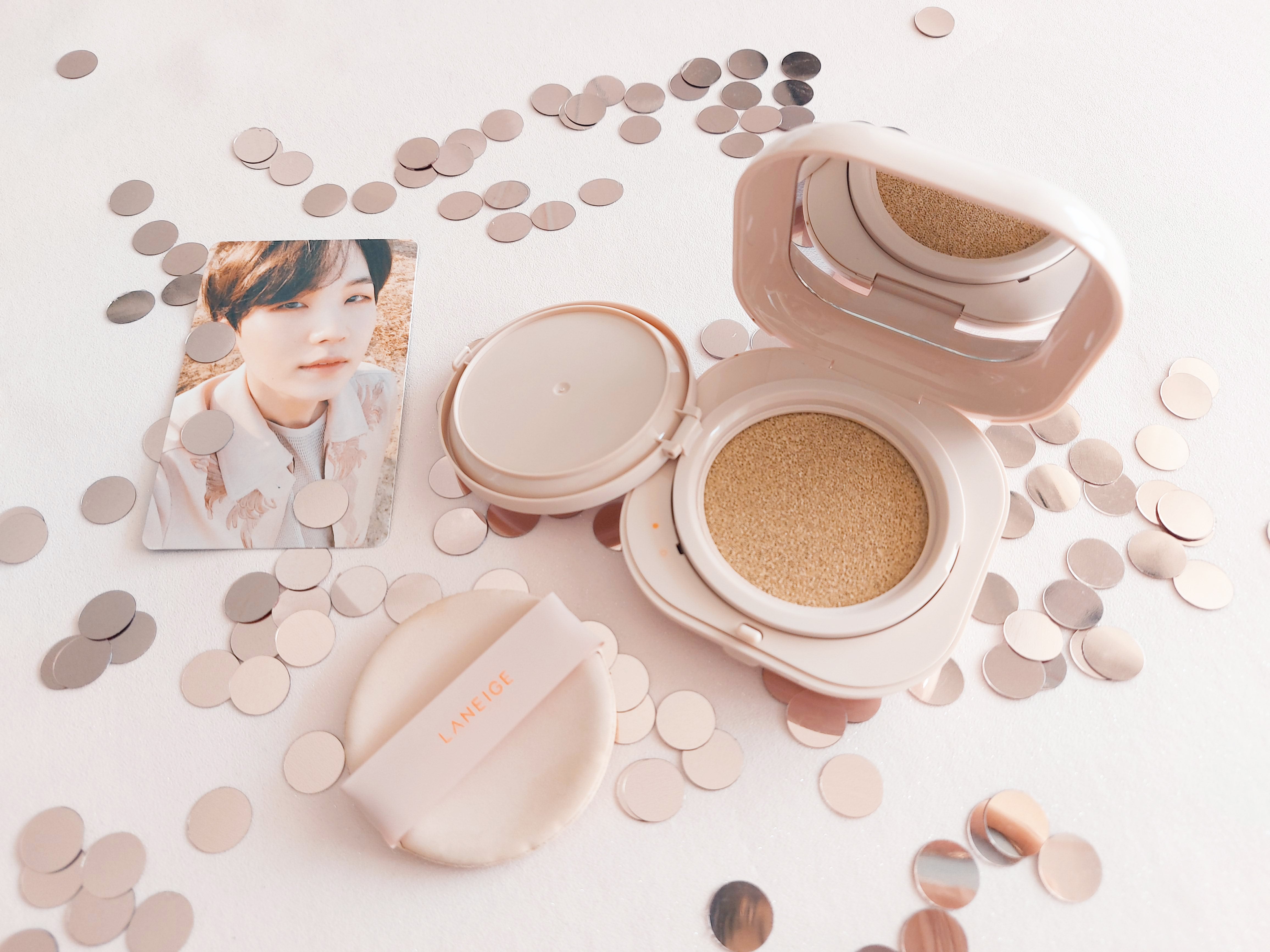 LANEIGE : NEO CUSHION GLOW
LANEIGE : NEO CUSHION GLOW
PThere are two ways to cover and unify your complexion: liquid foundation or cushion. The Cushion format is the most famous in Korea. The foundation is applied with a small applicator pad and it comes either in solid form or a soaked pad. Generally Korean cushions have the reputation of 'whitening' the skin by giving a boost to dull skin!
This is the new cushion NEO LANEIGE that we present to you. Its minimalist shape, rounded corners and pastel color make the cushion the new accessory to take everywhere. The cushion protects your skin from long exposure to blue light on PCs and smartphones!
Unlike other brand cushions or in general, NEO CUSHION is available in 9 shades. Unfortunately, the shades are still quite limited, available only for fair skin and those more beige, even pink.
The 23C, 23N and 25C shades are the darkest in the collection. For the review, it is the 23N shade that we used and we can notice that it is more pinkish than 23C or 25C. You will notice later that it is slightly lighter than my skin, so I would recommend 25C for darker beige skin.
The cushion therefore consists of its packaging, its cushion foundation and its applicator. You can easily change when the product is empty and its refill will soon be available.
The smell is quite pleasant but beware of sensitive skin with the presence of perfume! 
The coverage is interesting, neither too light nor too thick, so there is no plaster effect on the face. It has diminished my purple circles, they have not completely disappeared but they are less visible, even without concealer. My complexion is more unified after its application, as if I saw myself with a filter in the mirror!
The NEO CUSHION has a moisturizing effect and you really feel its power when you apply it on the skin. The face remains hydrated all day, it also improves the quality of the skin.
With the NEO CUSHION, the face really captures all the light of day and illuminates the skin. For winter it can be a very good choice because bye-bye dull skin and with a little blush, it's a healthy glow effect guaranteed!